Here at Be Beau we are proud to offer a range of the most up to date treatments on the market. We specialise in Semi Permanent Makeup, Brow and Lash Treatments, Hairdressing, Nail & Skin Treatments.
Please see below more information on each specialist treatment we offer.
If you would like any further information, please do not hesitate to contact us using the form below.
Here at Be Beau with Grace we specialise in Semi Permanent Makeup and cosmetic Tattooing. Grace is our in house expert in the field. We offer free consultations for anyone who is unsure and would like to have a chat to decide what treatment is best for you. You can book this online.
Microblading is the most natural form of semi-permanent eyebrows. We use a row of very fine needles to create crisp natural strokes that mimic the look of your hair to create a natural brow. We implant semi-permanent ink between the dermis & epidermis of the skin using specialist equipment. Although it is called Microblading it isn't actually a 'blade', we use a row of very fine needles, it can also be referred to as 'nanoblading'. Both treatments are the same, it just varies which blade is chosen for the procedure. We use our skills and expertise to ensure we carry out the most suited treatment for you & your skin. Microblading usually lasts between 9-18 months and will depend on your skin type, aftercare & lifestyle.
Machine Work is when we implant the ink into the dermal layer of the skin using a digital machine. We use this method when we are performing shading treatments for the eyebrows, eyeliner, lip tattooing & Areola's. Although manual shading is an option (using a microblade) we prefer the look and longevity of the machine work. Machine work will last anything between 1-3 years before you will need another treatment.
We can create many styles of eyebrows using the above techniques, and we will always ensure we pick the right treatment for you.
We offer the following:
EYEBROWS:
Microblading: where we create natural hairstrokes throughout the eyebrows using a nanoblade
Blade & Shade: we create natural hairstrokes and gently shade the spine of the brow using the manual method
Ombre Brows: is a bold statement brow where the bulb is lighter & fainter than the body & tail of the brow using a powdered techniques
Combined Brow is where we combine the micro-strokes & machine shading to create a natural brow.
LASH & EYELINER
Using the digital machine we are able to create lash enhancements and eyeliners for clients who wish to add definition to their eyes. This treatment is also perfect for anyone whomay have suffered hair loss and wants to add colour to the lash line.
LIP LINER & BLUSH
We have an array of colours we can custom blend to best suit you. We use the lip blush costmetic tattoo technique to add definition to the lips, re-create and lost shape make the lips appear fuller without the use of filler.
AREOLA RECONSTRUCTION
We are proud to offer Areola Reconstruction and scar reduction treatments free of charge for anyone who has been effected by cancer treatment. Please read our story below.
If you would like to see Grace regarding this treatment please book a free, confidential, consultation online. Due to the sensitivity of the matter all appointments will be dealt with by Grace personally and in the strictest of confidence. You are in safe hands with Grace.
For more information on booking, pre treatment, or aftercare please see here:

Our nail technicians are specialists in Gel & Acrylic Nail enhancements.
Gel Polish is a stronger alternative to traditional nail polish. It is harder and more durable for everyday wear. It is perfect for clients who want to grow their natural nails without the use of enhancements. We have over 100 colours to chose from and we can create bespoke designs for each client. Gel polish is also used over our acrylic nails to enable our clients to change colours on each infill appointment. We also carry the infamous BIAB – Builder in a bottle, which enables us to extend the nails with a softer alternative to Acrylic Extensions
Acrylic Extensions are used for clients who wish to extend their natural nails. We can offer bespoke designs, ombre & french style looks. We use only NSI products and only use the sculptured techniques for our clients.

Here at Be Beau with Grace we are known for our lash and brow treatments. We are pleased to be able to offer the most on-trend up to date lash and brow treatments on the market. Not only that, we also offer training courses in them too!!
Eyebrows:
HD Brows. Grace trained in 2012 at the famous HD Brow Institue and has been slaying High Definition brows ever since. If you want your natural brows doing properly, this is the treatment for you.
Brow Lamination. Using a specialist solution we manipulate your brow hairs in to a new shape in an effort to make them look fuller. Teamed up with a tint, we add fullness to even the sparsest of brows.
Henna Brows. We use eyebrow henna to colour the brow hair and stain the skin. This can last up to 2 weeks making the brows look fuller.
Micoblading & SPMU. We offer all aspects of brow semi permanent makeup. See above for more info.
Eyelashes.
Extensions. We have been offering lash extensions for over 8 years now, and it is scary to think how many sets we have done, so its safe to say we know what we are doing here. We offer classic lash extensions, hybrid, Russian volume and mega volume. Depending on the look you are after, and your natural lash health, we together can create you the best lashes you've ever had. Despite what you may have heard, lash extensions do not cause any damage to your natural lashes. Incorrect application and after care may cause damage. So we will talk you through what you need to know, and we can guarantee safe application at all times.
As well as extensions we also offer Lash Lift & Tint AKA LVL Lashes. We use a specialist solution to manipulate your lashes in an upward position then tint them too add definition to your eyes. This is perfect for clients who don't want the up keep or maintenance of extensions, or those who just like to rub their eyes, if you know you know!
If you are unsure which option is best for you, pop in or give us a call and we will be happy to help you!

Skin is always in!
Here at Be Beau with Grace we are pleased to offer advanced skin treatments & Training for our clients.
Dermaplaning. This is a manual exfoliation where we use a medical grade blade to 'scrape away' the outter layer of the skin & debris. We also remove all the fluffy hair on the face. This allows for better absorption of skin care products, and can treat scarring and fine lines and wrinkles if maintained.
Micro-Needling. Using a medical grade machine, we can treat scars, wrinkles, pigmentation and much more with our Microneedling facials. We cause a slight trauma to skin, which then in turn forces the skin in to defence mode producing more collagen and melanin. Your skin is left plump and glowing.

From perming to balayage… we have got you covered.
With a combined experience of over 50 years, our hairdressers can guarantee you are in safe hands. We are experts in an array of treatments ranging from the most on trend colouring techniques to old school perming. We are so pleased to be able to offer such experienced stylists on the floor for our clients.
We offer all aspects of styling, cutting, colouring and perming.
We are always happy to meet new clients, or bump into old ones, which ever you are you're welcome through our doors. If you are unsure what you would like, we are more than happy to offer free consultations to discuss your hairs needs.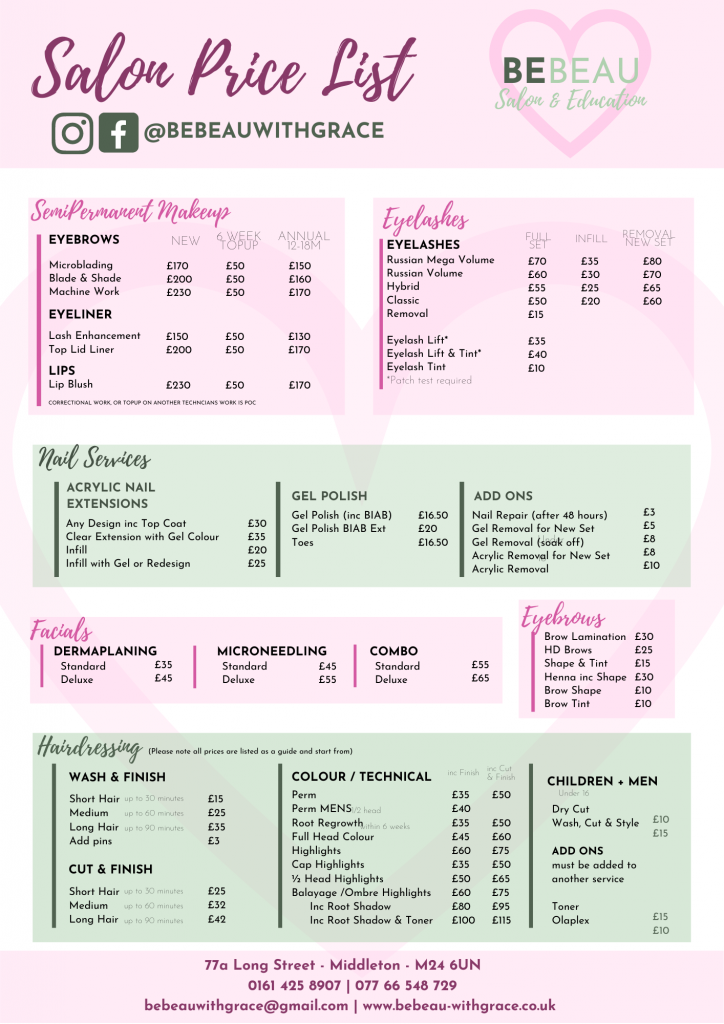 Contact us
[contact-form-7 id="422″]